Estel Group at Paris' Workspace Expo 2020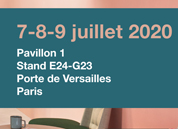 Also this year Estel Group will be present with its own stand at Workspace Expo which, in just three years, confirms its position as Europe's second largest exhibition in the office furniture sector.
After the change of dates because of health prevention, about Coronavirus, Workspace Expo Paris 2020 will take place, still at Paris Expo Porte de Versailles, on July 7, 8 et 9, 2020.

Considering that the 2019 edition had attracted 18,000 visitors and 235 exhibitors, despite the almost overlap with the Salone del Mobile in Milan, a further increase is expected on the 2020 edition thanks to the new date (one month advance: 10/12 March).
The 2020 exhibition, which is announced by the enthralling claim "I love my workplace" has limited dimensions, but the advantage of a very downtown position at Porte de Versailles pavilion. 
In the past two editions it has already shown a strong personality and a great professionalism in the organization that have attracted international exhibitors (including several Italian companies) and an ever-increasing number of visitors, establishing itself as an important showcase "to discover the new trends in workspaces" as the organizers promise, not only for the French internal market.
Laurent Botton, director of the exhibition pole announces "For this new edition, the show will be even more elaborate, more pertinent and above all more alive. A unique meeting to meet prescribers and the whole market. Workspace Expo is more than ever the place to perpetuate and develop business. Whether you are an established company or a startup, French or foreign, Workspace Expo is an essential accelerator for your business".
Estel Group will be present at Pavillon 1 – Stand E24 G23.
You can request a ticket valid as a free entrance by contacting us by email at: estel@estel.com