Ergonomics in the office: when the goal of ensuring wellness improves efficiency and reputation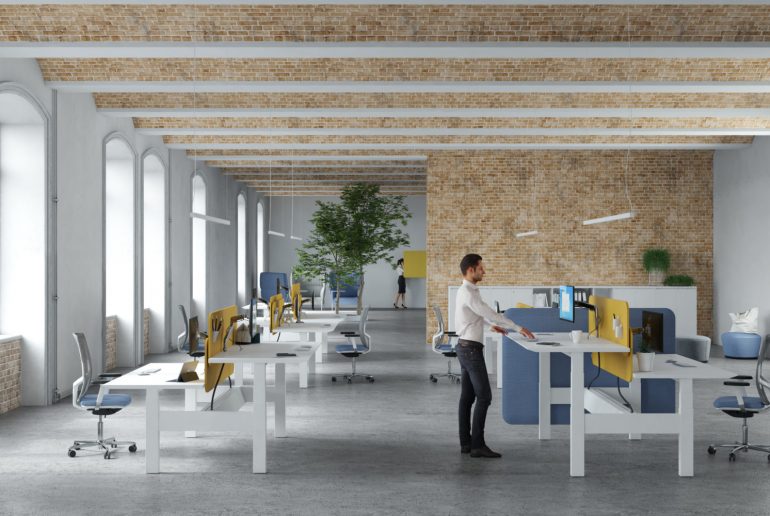 Office ergonomics is a core occupational health issue.
Musculoskeletal disorders account for 60% of occupational diseases in Europe.
An ergonomic workstation is designed to encourage keeping the right posture
Sit-stand stations have positive effects on skeletal muscle pain and on productivity
Caring for workers' health improves companies' reputation and efficiency

---
Ergonomics and musculoskeletal disorders
Research by the European Agency for Health and Safety at Work (EU-OSHA) finds that 70% of companies identify tiring and painful postures as a risk factor, with the percentage number growing to more than 80% when it comes to sitting for long periods of time, especially as it pertains to service-sector businesses. Awareness of the importance of ergonomics in the office has grown significantly in recent years. Compared to the same research conducted in 2014, the perception of the aforementioned risk factor has grown by 25-30%.
Ignoring ergonomics comes with a heavy price tag.
There is good reason why musculoskeletal disorders, including those related to incorrect postures, are perceived as an increasingly urgent problem. Indeed, in Italy, they account for approximately 60% of the occupational diseases reported to INAIL, the country's National Workplace Accident Insurance Association, with costs affecting Italy's GDP by about 7.9 billion Euro (Gsk data). Working from one's home office (HOME OFFICE ARTICLE LINK) made things worse. Indeed, according to an Assosalute research, this type of ailment grew by 40% during the lockdown.
Guidelines for office ergonomics
Research in this field is constantly evolving, and at Estel we are particularly careful to include the most advanced solutions in our workstations. Speaking of ergonomics in the office, the first thing to think about are the design features of chairs and worktops. Indeed, they must be adjustable to allow any user to maintain a correct posture, which does not cause trauma to the skeletal muscle system. Here are some international guidelines:
the trunk must be able to stand erect, the forearms rest on a surface or armrests, the wrists straight and with adequate supports;
the seat must be adjusted so that hips, knees and ankles form 90° angles;
the screen must be adjusted so that the person can look straight ahead;
the position must allow for changing it with freedom of movement of legs, arms and torso, and
at the same time, be studied so that all working tools and materials can be reached without unnatural movements.
DISCOVER THE ESTEL ERGONOMIC WORKSTATIONS AND SIT-STAND SOLUTIONS
Sit-stand: ergonomics on another level
In any case, office ergonomics does not stop at the basic principles of a correct sitting posture. Research evolution led to the recognition that sitting down for long periods of time is itself a source of stress for the body. This is why the sit-stand formula is becoming increasingly popular in designing workspaces.  It is a design philosophy that allows people to switch from sitting to standing, keeping their posture unchanged.
Benefits of a sit-stand position
Estel's attention to people's well-being, one of the cornerstones of our Smart Office vision and, therefore, to ergonomics in the office, has led us to develop a variety of sit-stand workstations. The benefits of this choice are demonstrated by a recent research published in the International Journal of Workplace Health Management. The installation of ergonomic furniture leads to:
Ergonomics, satisfaction, productivity
The aforementioned EU-OSHA research itself also proves that the improvement of well-being has a positive impact on the general health of the organizations. Among the reasons that push companies to invest in occupational health and safety measures, such as ergonomics in the office, there is more than just the need to comply with rules and regulations. For 81% of European companies (92% in Italy), investments in office ergonomics increase employee satisfaction, for 77% (93% in Italy), it improves corporate reputation, and for 66% (87% in Italy), it increases productivity.
Return to the office, an ergonomic one, that is.
Among the evolutions required to create a post-Covid office, well-being in general, and ergonomics in particular, will have to play a central role. This course of action falls within the function of "incubators" of new work and social models that the Fortebis consultancy company assigns to "post-pandemic workplaces", where attention to psycho-physical wellness and a sense of protection can be perceived both in space and in the emotional sphere.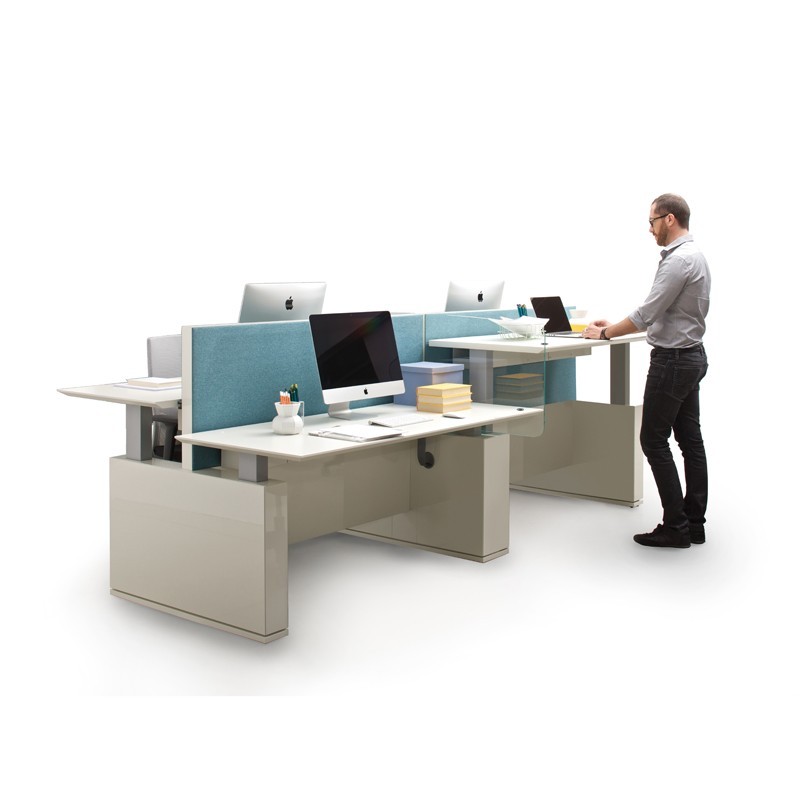 We at Estel, the specialists of the Italian Smart Office  fully see ourselves within this new perspective.