Estel Education, school chairs for Italian classrooms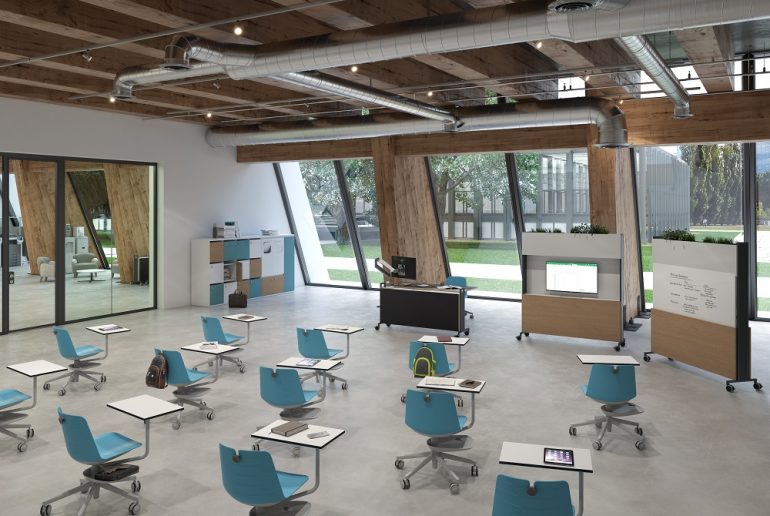 An exceptional effort: this is the only way to describe the intense quarter that saw the Estel Group company committed to fulfilling the request for over 218,000 innovative chairs for primary and secondary education institutions throughout Italy

Estel's organizational and logistical capability
In August 2020 our company obtained the assignment of part of the tender promoted by the Italia extraordinary commissioner for the Covid emergency – Domenico Arcuri – to renovate the furniture park of the Italian public school and cope with the pandemic emergency: an order with an enormous amount, obtained in a difficult time for the entire Italian furniture sector.
The first step was to "network" with suppliers and partner companies in order to guarantee a rapid, effective and 100% made in Italy production cycle: as a whole, the project involved the companies Ergotec, Brado, Omp, Keter, Vivi, Donati, Infiniti, Segix and Cst.
To create such a large number of high-quality standard products in such a short period of time (the limit for the delivery of the innovative chairs had been set for the end of October), a real reorganization of the internal production structure was also necessary, both in terms of equipment and human resources.
Almost 15 thousand square meters of our production plant (inside the headquarter located in Thiene) have been converted and used exclusively for the educational "Innovative Seating" project: five internal production lines have been implemented on the basis of the LEAN model.
Thanks to the overall effort of over 1000 employees involved in the supply chain – divided between workers and logistics – it was possible to trigger a work cycle capable of guaranteeing the production of approximately 4500 items per day and the subsequent handling of 40 articulated trucks per day for delivery. of the sessions, sent throughout Italy to over 3700 requesting school complexes.
Innovative chairs for school
The innovative school desk approved in recent months by the Technical Scientific Committee on behalf of the Ministry of Education is composed of a polypropylene supporting structure consisting of a body, a work table and an underlying space for storing backpacks and bags. All seats must be equipped with self-braking castors to facilitate movement and reconfiguration of the classrooms.
Based on these specifications Estel Group has developed 5 different bench variants to meet the entire demand. All the models developed by Estel are fireproof, easily sanitized thanks to the use of polypropylene shells and compliant with CAM requirements and the Uni En 16139: 2013 standard.
The common feature for all the counters is the presence of wheels, which is essential both to ensure greater ease of sanitizing operations, and as regards configuration flexibility, allowing you to change the layout of the classroom in real time, creating small groups in a few seconds. of heterogeneous work.
Compared to the static nature of the desks used in schools in the past, now the teacher can organize the class in a different way, dividing the students into groups that are spaced apart, also triggering new innovative teaching methods structured for groups of students (strengthening, review, team-working …).
A multipurpose product, also suitable for company training rooms, conference and meeting spaces where it is necessary to prepare a layout in compliance to social distancing.