Designing spaces to collaborate, innovate and grow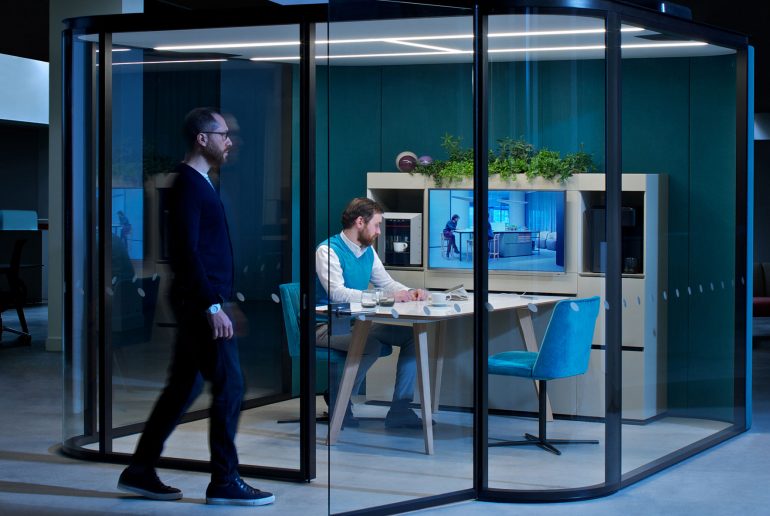 A "special" work environment
In recent months, the workplace has experienced one of the most taxing challenges in recent history. The sudden and generalized transition to home working has changed the very way of conceiving office spaces: no longer standard work settings, but specially customized spaces. A space that offers a unique possibility: to share ideas in person. This solution is closely connected to the ability to produce innovation, which can be improved through the design of a workspace.
Less employees attending in person, better cooperation
The current context led to redefining the function of the office by placing collaboration at its core. But it also offers the opportunity to concretize this evolution. A JLL survey found that companies have been experiencing the need to commit more spaces to idea- and knowledge-sharing. At the same time, companies also have more space available as a result of the implementation of smart working solutions. Consequently, in the future we will probably have less crowded though more collaborative, innovative and productive offices.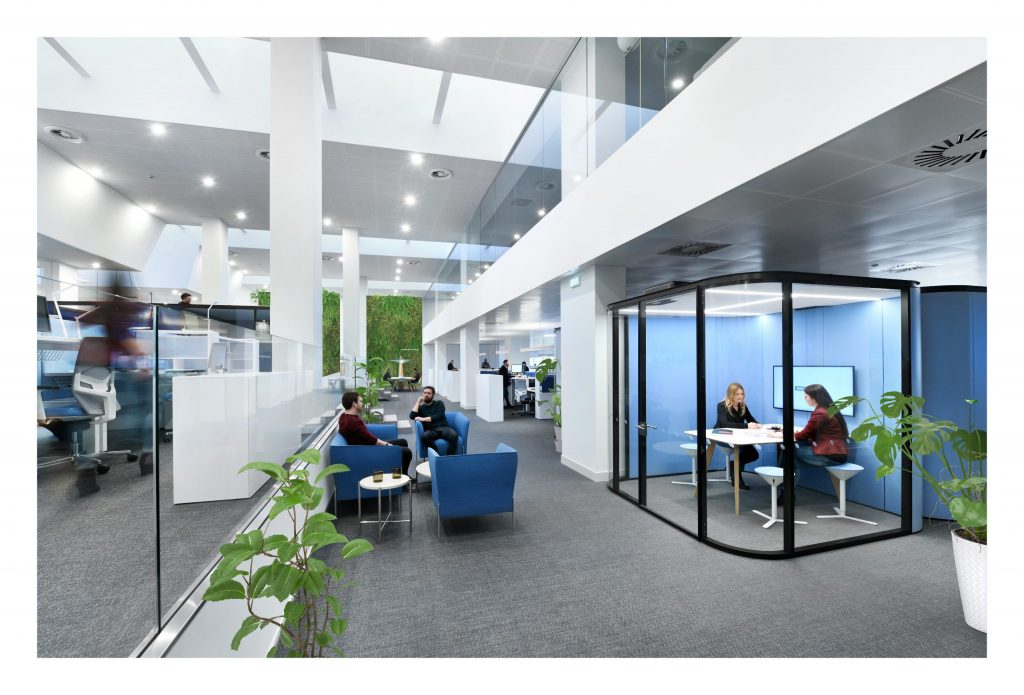 Collaboration, innovation and growth
The connection between physical presence, collaboration, innovation and productivity has been demonstrated by countless research and studies.
Designing spaces to collaborate
The improvement of collaboration within a company cannot be decoupled from the design of a workspace. The following elements should be considered when designing spaces dedicated to (formal and informal) office interaction:
acoustic insulation, to ensure the privacy of work teams, and, at the same time, acoustic comfort in outdoor environments;
visual continuity: the interaction among people is not something to be hidden, but to be placed at the center of attention, and not just symbolically speaking;
flexible furnishings and technological equipment, which allow to freely choosing different modes of interaction based on discrete needs;
design choices (such as ergonomics, lighting and materials) capable of promoting a positive and productive work environment;
air exchange and sanitation: an essential condition to ensure high hygiene and safety standards in a shared environment.
Be collaborative!
All these principles are the basis of our Collaborative Room: a range of modular pods designed for increasingly smart, shared and multi-space offices.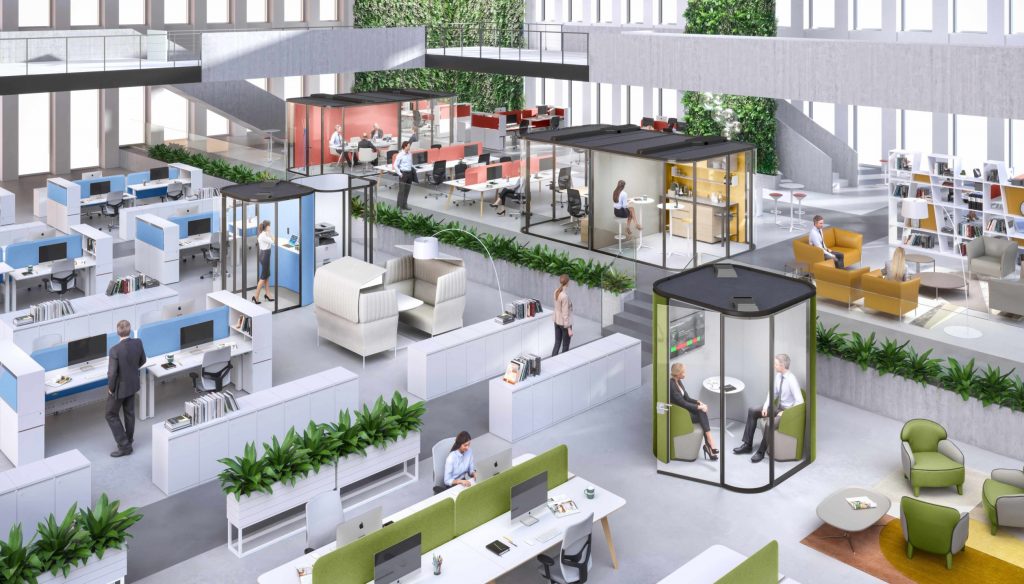 13 size options with walkable surface up to 15 square meters
Sound absorption guaranteed up to 35 dB
Variable intensity LED lighting
Internal temperature and humidity control
New air exchange and sanitization system
Multiple furnishing solutions based on each discrete function (meeting room, space for phone calls and video conferences, break area, waiting room, etc …)
Smart Office Solutions
The Collaborative Room and all our solutions for formal or informal space-sharing (such as our Coffice line) are inspired by the Activity Based Working (ABW) principle : a new paradigm to organize work, which focuses on people's discrete needs, going beyond the traditional concept of " workstation".
This is a fundamental principle of our Italian Smart Office vision: a workspace with a flexible layout, where employees can operate with greater ease, and are free to move comfortably within and across operational spaces, as well as areas to promote better concentration, to interact or to just relax.